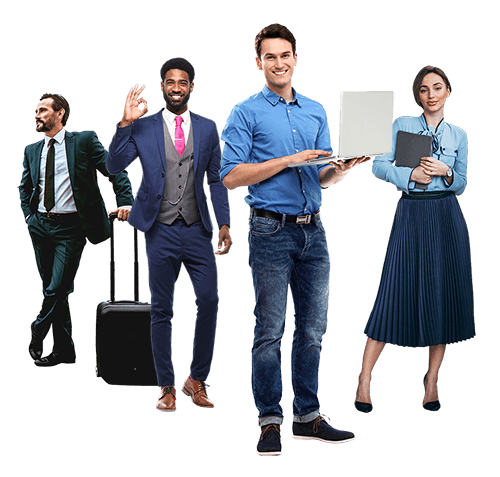 Prospector
The inSurge Prospector package gives you everything you need to take your LinkedIn marketing to the next level.
Profile optimisation, advanced audience building, personalised outreach, and much more, your business generation has never been so easy.
This is the future of sales – this is inSurge.
Step 1 | Profile Optimisation
We always start with a simple question:
If your ideal client went to one of your sales staffs LinkedIn profiles would they know what you do, how you help them & why they should use you?
If you are on LinkedIn to network and create opportunities then you need a profile that's is compelling to your prospects.
We do all of the necessary optimisations to your profile including: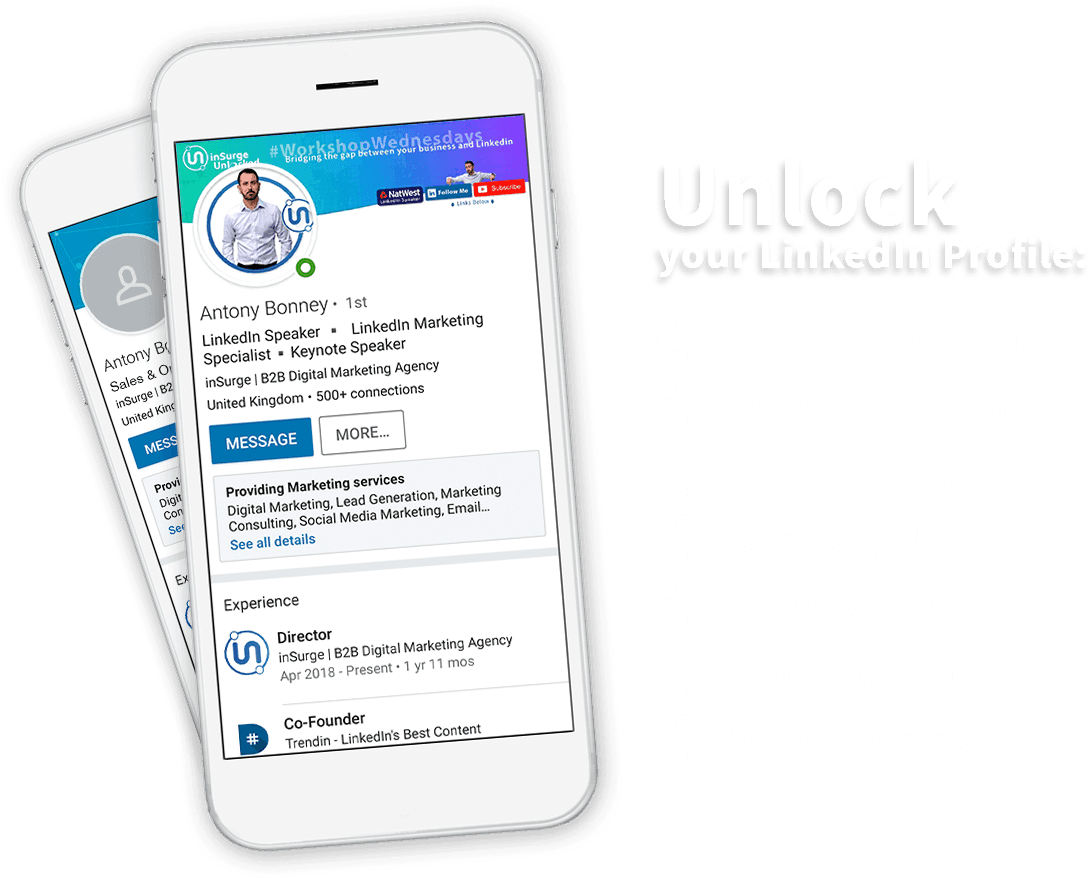 Step 2 | Identify Prospects
Sales Navigator is a fantastic tool offered by LinkedIn to help identify and segment different audiences.
The good news is we are the experts at crafting multiple ideal audiences based on a multitude of filters.
Combining both personal & company filters mean we niche down that perfect audience to deliver relevant marketing messages that convert much higher.
Advanced Audience Building
Step 3 | Engaging Audiences
Quality over quantity but ideally both. LinkedIn outreach is much more popular & standing out in the inbox is vital.
We tailor our outreach over 4 messages on a custom timeline per segmented niche audiences.
This ensures you are delivering relevant marketing sequences to the right audiences that actually mean & benefit them.
Quality outreach that is personalised & relevant is the key to the success of any campaign.
We encourage our customers to provide as much as the below when engaging your ideal customers.
Provide something of value (to them)
Offer a time-restricted discount
Provide a solution to a relevant problem or desire
Step 3a | Personalised Images
Personalisation is key to a successful outreach campaign on LinkedIn.
That's why we created personalised images, that make you stand out from the crowd in your ideal client's inbox.
99.9% of LinkedIn messages don't include an image let alone a personalised one.
We have seen results in massive success using this strategy and have had clients getting up to a 31% positive response rate.
The key to the success of this is simple we try to make it your ideal clients feel your sales teams have made a real effort to reach out.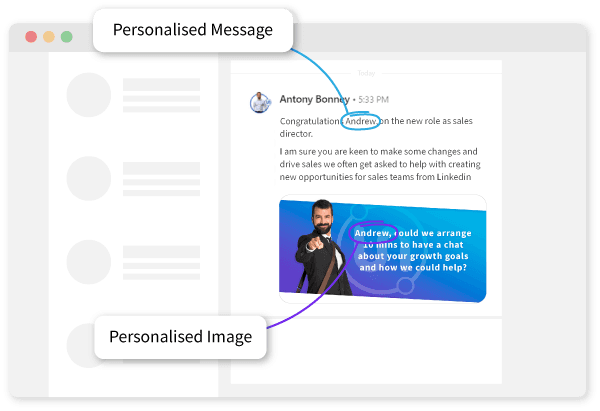 Step 4 | Leads & Prospects
What do you and your staff have to do?
Be logged into to Linkedin wither via desktop or mobile to be ready to respond when a prospect replies with "Yes let's talk"
The goal should be to now take it of Linkedin by arranging a phone call, Zoom chat or meetings
However, we cant convert 100% of the ideal clients we connected you with.
BUT let's just recap, they are an ideal client and have connected with one of your staff.
This is a warm prospect that's why we provide you with the mobile numbers of your connections and email addresses
No more cold calls, No more cold emails & No more gatekeepers
We integrate with 300+ CRMS so your sales teams can carry on the prospecting with warm opportunities 100% GDPR compliant.
CRM Integrations
We integrate with 300+ CRM platforms including all of the most popular ones! Time to get this moving!
The fact is, if you're doing any kind of marketing or outreach, doing it in a more personal way that feels customised and unique to each recipient is always going to perform way better.
Take your next marketing campaign on LinkedIn to the next level, and find out why inSurge is the future of sales.
Simply fill in your details below and a member of our sales team will be in touch with you to discuss your business growth goals, and how we can help you absolutely smash them.